Balloon Columns for Elegant Wedding Decor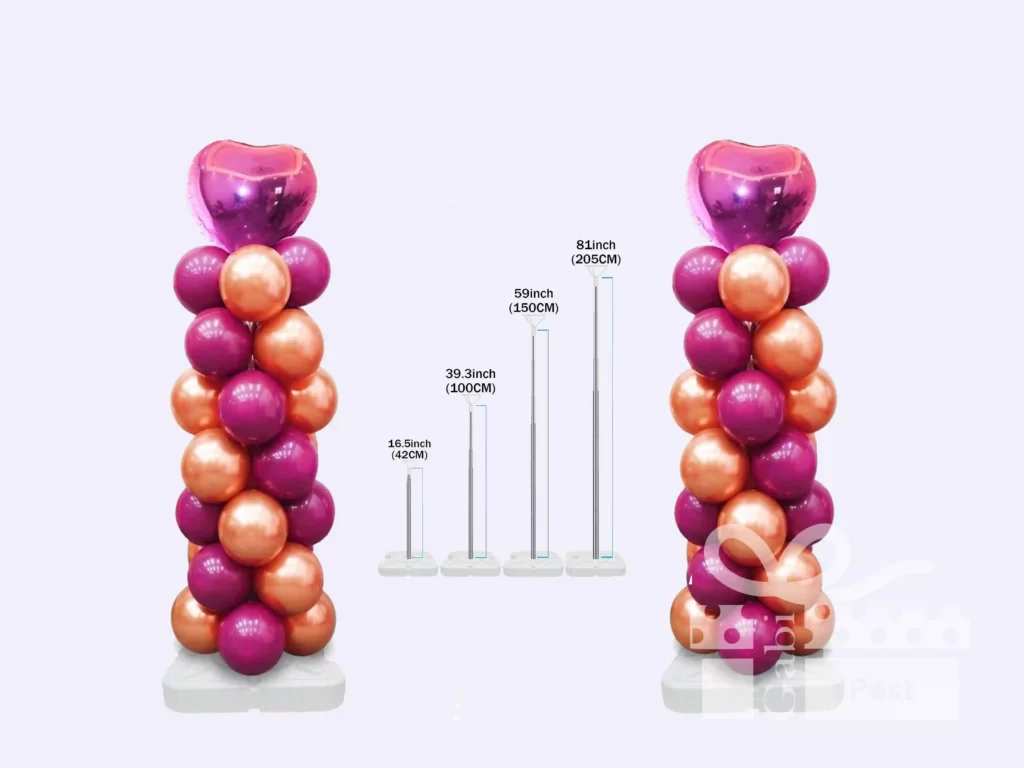 Add a touch of sophistication to your wedding day with our balloon columns. The perfect blend of simplicity and elegance, these columns are the perfect way to elevate your wedding decor and create a stunning backdrop for your special day. The perfect addition to any wedding, our balloon columns are sure to leave a lasting impression on your guests.
Introduction to Balloon Column Stand
Balloon columns are a popular and versatile decoration option for a wide range of events, including weddings, birthdays, baby showers, and more. Our Balloon Stand is the perfect solution for creating stunning and eye-catching balloon towers that will elevate any celebration. With its stand kit for floor and metal balloon design, this product is easy to set up and provides a stable base for your balloon arrangements.
Efficient and Sturdy Design
The Balloon Column Stand is designed with efficiency and durability in mind. The metal balloon stand is sturdy and stable, making it a great option for events both indoor and outdoor. The kit includes everything you need to set up the balloon tower stand, including the base and connectors, so you can start creating beautiful balloon columns in no time. Whether you're using it for a birthday party, baby shower, or wedding decoration, the Balloon Column Stand is sure to make a big impact.
Versatile Decoration Option
With its adjustable height and customizable design, the Balloon Column Stand is a versatile decoration option that can be tailored to fit any event or theme. Whether you're looking to create a simple, elegant tower or a bold and vibrant balloon display, the Balloon Column Stand makes it easy to bring your vision to life. So why wait? Add the Balloon Column Stand to your next celebration and take your party décor to the next level.
Why use Electric or Hand Balloon Pumps instead of Inflating Balloons with Mouth?
Balloons are an essential part of every party, birthday, or celebration. They add fun, color, and cheer to any event. Inflating balloons is one of the most tedious and time-consuming parts of party preparation. People have been using their mouths to inflate balloons for decades, but using a hand or electric balloon pump can save time and effort and reduce the risk of injury.
Advantages of using a Hand Balloon Pump
A hand balloon pump, also known as a hand-held balloon pump, is a small, lightweight pump that can be easily carried around. It is the perfect solution for inflating balloons on-the-go, making it ideal for outdoor parties or events. The hand balloon pump is easy to use and can quickly inflate a large number of balloons, reducing the time and effort required for manual inflation.
Advantages of using an Electric Balloon Pump
An electric balloon pump, also known as a balloon blower machine, is a device that can inflate balloons quickly and efficiently. Unlike a hand pump, an electric balloon pump does not require manual pumping, making it a convenient solution for large-scale events. This type of pump is ideal for those who are planning a big party, as it can inflate hundreds of balloons in a matter of minutes, making the process of party preparation much easier.