Get the Ultimate Bachelorette Party Decoration with Foil Bride Balloons and a Bride-To-Be Set
Are you looking for the perfect way to celebrate the upcoming nuptials of your best friend or sister? Look no further than bachelorette party decoration! With a stunning array of foil bride balloons and a bride-to-be set, you can create an unforgettable celebration that will have everyone talking long after the party is over.
Whether you're planning a wild night out on the town or a more intimate gathering at home, these bachelorette party decorations are the perfect way to kick off the celebration. The foil bride balloons add a touch of sophistication and glamour to the party, while the bride-to-be set provides a fun and playful touch. With these decorations, you can create a festive atmosphere that will make the bride-to-be feel like the star of the show.
So, why wait? Start planning the perfect bachelorette party today and make sure that the bride-to-be is surrounded by the love and support of her closest friends and family. With these bachelorette party decorations, you're sure to make this special occasion one to remember.
Foil Bride Balloons: The Perfect Decorations for Your Bachelorette Party
When it comes to bachelorette parties, every detail counts, and the right decorations can make all the difference. That's why we're excited to introduce our Foil Bride Balloons collection. These balloons come in a variety of sizes, colors and materials, making it easy to find the perfect balloons to match your theme. Whether you're looking for 40 inch silver bride balloons, 40 inch gold bride balloons, 40 inch rose bride balloons, 32 inch burgundy bride balloons, or any other combination of colors, we've got you covered.
Our bride to be set is a must-have for any hen party or bachelorette celebration. These balloons are not only stunning to look at, but they are also made of high-quality foil material, making them durable and long-lasting. The bride balloons in this set are a perfect choice for bride to be decorations, adding that extra special touch to your event.
So, whether you're looking for the perfect bride to be balloons for your bachelorette party or simply need a fun and creative way to celebrate the bride-to-be, our foil bride balloons are the perfect choice. With these balloons, you'll be sure to make your bachelorette party or hen party truly unforgettable.
Bachelorette Party 40 inch Silver Bride Balloons
Bachelorette Party 40 inch Gold Bride Balloons
Bachelorette Party 40 inch Rose Gold Bride Balloons
Bachelorette Party 32 inch Burgundy Bride Balloons
Electric Air Balloon Pump
Complete Bride To Be Set: Add the Perfect Touch to Your Hen Party
Celebrate the bride-to-be's last night of freedom with the perfect bachelorette party decoration with our Bride To Be Set! Our set includes all the essentials for a unforgettable hen party, featuring stunning gold bride balloons, hen party balloons, and bachelorette decoration ideas that will create the perfect atmosphere. Say goodbye to single life with our team bride accessories and bachelorette balloons that are sure to impress. Whether you're looking for a fun night out or a more relaxed gathering, our bride decorations will set the tone for an unforgettable celebration.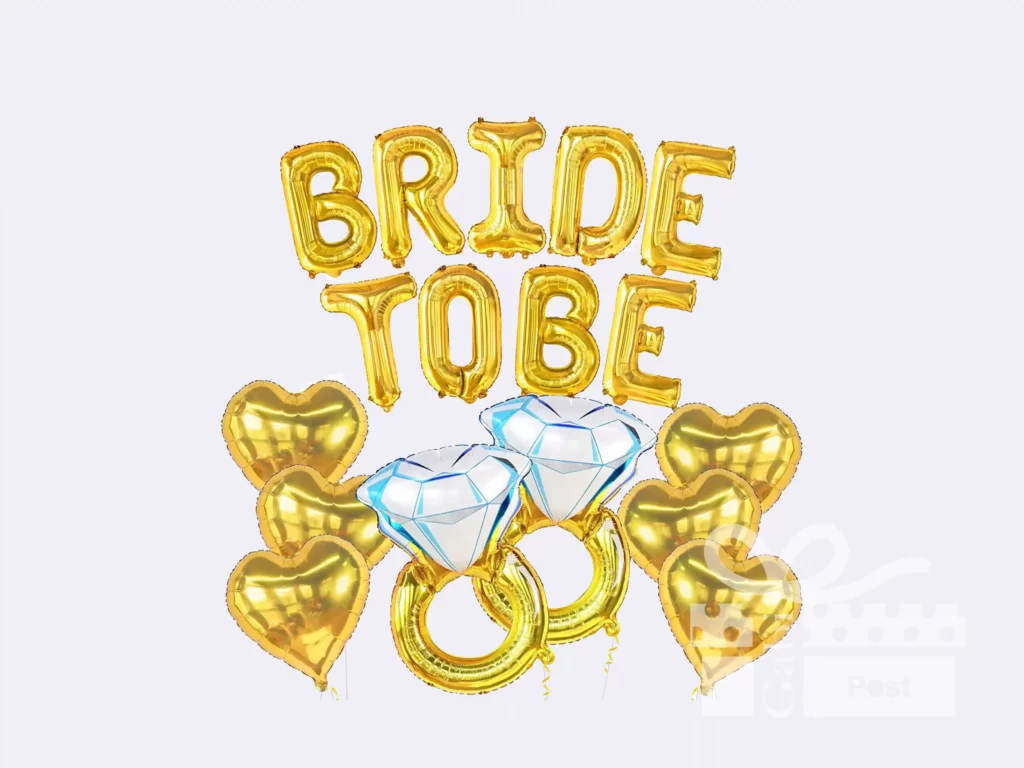 Bachelorette Party Balloons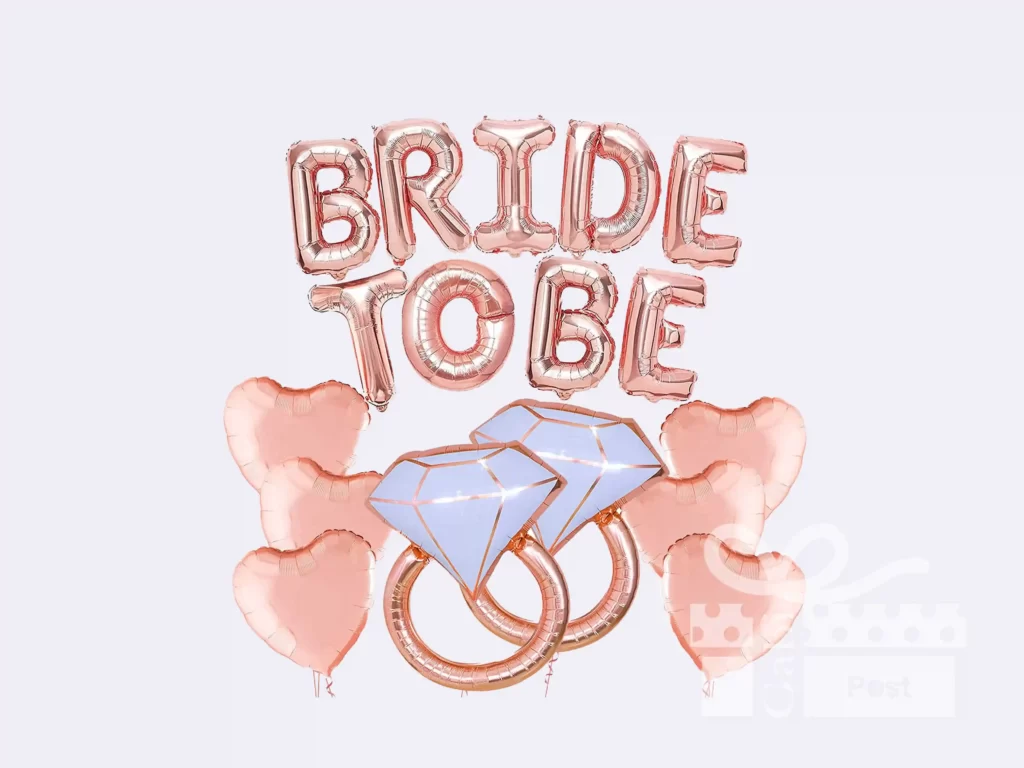 Electric Air Balloon Pump
Add Some Fun to Your Bachelorette Party with Our Bachelorette Party Photo Props
Throwing a bachelorette party or bridal shower and looking for the perfect photo booth props? Look no further! Our collection of bachelorette party photo props includes everything from "team bride" signs and "bride to be" glasses to "hen party" mustaches and lips. Whether you're celebrating at a bar, at a beach, or at home, our photo props are the perfect addition to your bachelorette party decoration. Make memories that will last a lifetime and capture all the fun with our collection of bachelorette photo props. These props are also a great way to add some excitement to your hen party or bridal shower. So why wait? Get your hands on our bachelorette photo booth props and let the fun begin!
Bachelorette Photo Booth Props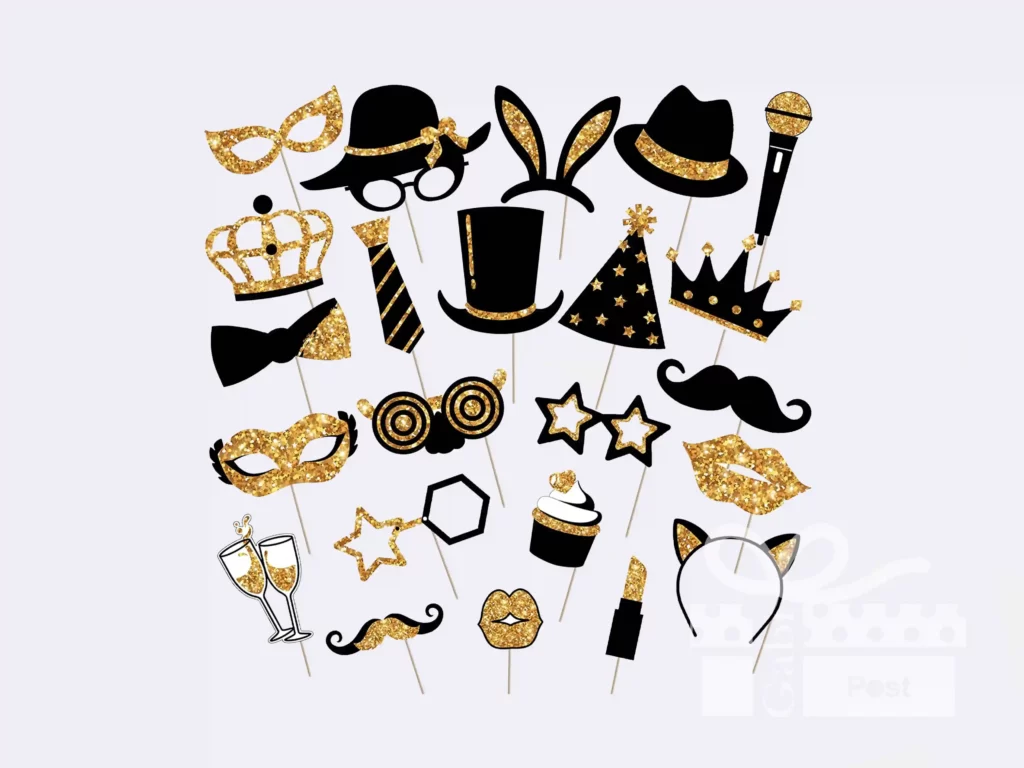 Bachelorette Party Photo Props
Hen Party Photo Booth Props
In conclusion, the bachelorette party decoration category offers a variety of options to add a special touch to the bride-to-be's special day. From foil bride balloons, to bride to be sets, to bachelorette party photo props, there's something for every style and taste. The bachelorette party is a special occasion to celebrate the bride-to-be and with the right decorations, it can be made even more memorable. With bachelorette decoration ideas like these, the bride and her team will be able to create a fun and festive atmosphere that they'll never forget.